Do you work from home or are you thinking about working from home? Great.
Benefits include managing your own time, the ability to fit other commitments around your work, saving money on the daily commute and avoiding childcare; the advantages are endless. Studies have even shown that working from home can increase productivity and job satisfaction.
So what's stopping you? Maybe you feel like you don't have everything you need right at your fingertips or perhaps you think that you won't be able to communicate effectively with your workforce whilst you're away. This is where you're sorely mistaken.
It is now possible to work from home successfully and all it takes is an understanding of the useful and low cost technology that is available to you. Making a seamless transition to working from home will now be an easy task after reading these five easy tips. And if you're working from home already then give them a read anyway… they may well improve your experience!
Technology Support
Working from home requires the right kit. Your employer is the ideal person to provide you with this. But if you're an employee that would prefer to use your own equipment, it is important that you get it PAT tested and acquire the appropriate anti-virus software. At Aspect, we support our existing customers that work from home with issues similar to this as well as other day-to-day IT queries.
Internet Connection
In order to work efficiently from home, it seems obvious that you would need a fast internet connection. If you live rurally, fast internet connections can be difficult to obtain. This is where we come in! We have extensive experience in finding and managing the best service providers, from broadband to fibre. Leave it to us and we will ensure you're not waiting ages for your web browser to load when you could be spending more time writing those critical reports!
The Cloud
One of technology's favourite buzzwords at present is cloud computing. Sou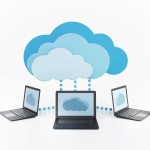 nds very complicated. Wrong! Cloud computing delivers the means through which everything is readily available to you, regardless of your whereabouts (providing you have an internet connection). Simple. Now you can access your emails and documents away from the office. Not only is this excellent for working from home, but it is also a much safer method of storing your data. Should your computer stop working, you can still access your data no problem, from an alternative device
4. VoIP
VoIP is an acronym for Voice over Internet Protocol. But that's not important… what is important is the fact that this technology allows you to be fully integrated with your office phone network. In other words, as a home user you will now be another extension to the line in the office. Being able to communicate with other employees and customers is essential to the smooth running of your business. This handy service also has another benefit – lower communication costs for your business. Calls to other VoIP systems are free of charge and calling landline or mobile numbers is generally much cheaper than using traditional phone services.
Skype
Video conferencing software such as Skype can be very useful for virtually hosting and attending work meetings. Being able to see your team, rather than talking over the phone makes interactions much more personal. Now you can have that important conference in your pyjama bottoms… Just make sure you don't stand up and they'll be none the wiser!