IT is no longer perceived as a business requirement, but rather a strategic component that will help drive your business growth and agility. IT outsourcing allows you to concentrate on your core business plans without sacrificing company progression and advancement. Our mini infographic guide outlines some of the key advantages that investing in third party support can provide.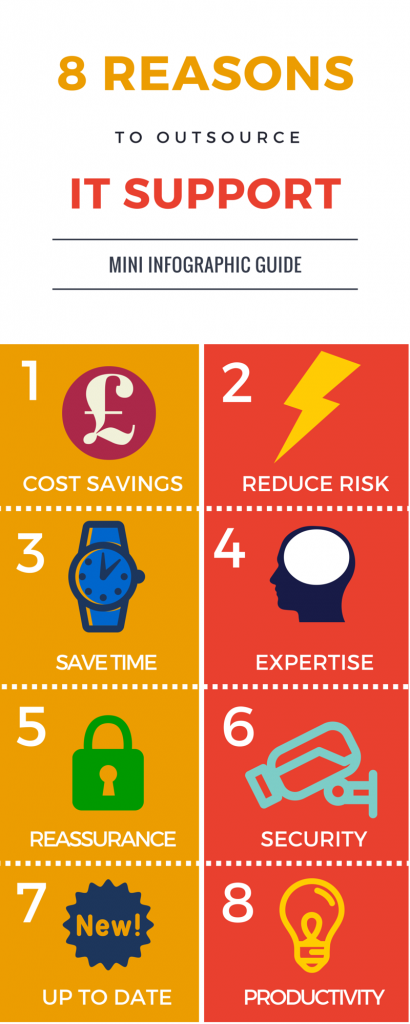 Cut Costs:
Predictable monthly costs allow for efficient budget planning; this is key to business development and increased profit margins.
Reduce Risk:
Joining forces with a third party IT provider will share some of the risk burden. Offloading infrastructural risk can create a more flexible and dynamic organisation.
Save Time:
Free up key internal resources and staff with the help of an IT support company. Every minute wasted on IT management is a minute that you could have used to focus on business growth.
Gain Expertise:
Avoid the financial strain of employing an IT support member of staff and cut recruitment agency costs. External organisations are equipped with highly skilled, qualified IT consultants that are on hand to solve problems and offer advice whenever you need it.
Reassurance:
Stay safe in the knowledge that your IT is being handled for you. This means that you can concentrate on pursuing important business strategy opportunities with less disturbances and better focus.
Security:
Your IT system is critical to your business, if parts of it fail your business can't function. Your IT support provider will know the systems and procedures that you will need to follow to get you back up and running. Outsourcing is effectively a disaster recovery plan if something goes wrong.
Stay up to Date:
Stay on top of the industry's best practices. Professional IT providers work with a number of clients, so they have the experience and knowledge to help you make the right decisions for your business.
Increase Productivity:
By outsourcing non-core business functions, you can spend most of your funds and time on things that are directly related to your product or customer.
If you would like to learn more about it outsourcing in Manchester and how we can help your organisation with IT management, then get in touch!