If trying to locate your belongings in the morning is like looking for buried treasure, then these 21st century gadgets could be the answer to all your problems.
A reinvention of the wallet could prevent us from ever losing our money again. Woolet is the next generation of wallet, designed to keep your cash and cards safe. The handy little device is Bluetooth-powered and self-charging. The idea is that once you've moved out of a specified catchment area, your phone will be alerted, urging you to retrace your steps and retrieve your wallet. A built-in distance tracker assists in pinpointing the Woolet's specific location.
Hurrah! Your wallet is now impossible to lose!
The other good news is that the makers of Woolet have promised an 'ecosystem of products that protect you and your precious things'. Here's to hoping there'll be a purse version for the ladies!
This convenient device is attachable to anything that's prone to being lost. We think it could be very handy for lost keys! Using Bluetooth and your phone, Tile tracks the item that it's paired with and a GPS location feature named 'Last Place Seen' allows the user to recall its location for quick retrieval.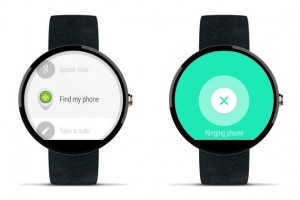 In the coming weeks Google will transfer its phone-finding Android Device Manager to Android Wear. If you're an Android smartphone user with a smartwatch, you'll be able to speak the instruction, "Okay, Google. Start. Find my phone" and your mobile will automatically ring at full volume. Android users don't need to do a thing to enable the feature as it will automatically roll out to all android wear devices in the next few weeks.
There are a plethora of gadgets available that can assist in tracking your personal possessions. Some are pricier than others but the main aim is the same – to eliminate the panicky rummaging around process that many of us go through whenever we try to leave the house!