It is hard to remember a time when Facebook and Twitter were just little websites playing host to a few dedicated users. It is even harder to imagine the meteoric rise in popularity that these social media giants now have and the place that they hold in our lives. Along with EBay, YouTube Linked In and Amazon, we now have a preferred provider for pretty much everything required to live our digital lives.
There is a reason that these services have blossomed into what they are today, because they are good.
So what if you want to try and break the strangle hold of the big players and steal a slice of their pie, how can anyone challenge the might of the new digital super powers and claim a place at the top table, short answer, you can't, well not unless your Google.
It seems that Google have their fingers in every pie around and at face value seem to be doing a pretty good job at it, sure there are the legal wrangling's of who is suing who (everyone is suing each other for everything right now) and the wars taking place in pretty much every market place between competing companies, but Google is taking on every one at their own game, and in Facebook maybe they are facing the biggest of them all.
My first thought when I heard that Google was to create a social network site (I'm sure Facebook will be trademarking that term too) was that of amazement. But after a little thought I realised that if anyone can do it then Google can.
In the social media market we pretty much have two choices, Facebook or nothing and we have to take our pick, Google aim to change that with Google+ (G+). G+ is still in Beta mode and only available to those invited by existing members (people who really want to try it out). Like everything Google, if you have a Google Account to can also use G+, people who use the Android market have access to all things Google and as such will have a G+ account once the system goes live.
What does it offer?
I suppose that having had Facebook around for what seems like so many years now, we all have our opinions on the good, the bad and the ugly.  Like everything that Google do, they take the best bits bin, the bad bits, throw in their own bits and join it all up with some new bits.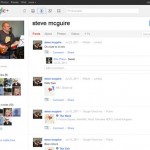 The key points are;
Profile
Status
Photos
Games
Chat
Messaging
Commenting on post messages and photos
Sounds familiar right? Well that's because it is. Google haven't really given us anything new, they've just given us a different platform on which to do it.
Perhaps the two newer and slightly more innovative features are Circles and Hangouts. Circles are used to organise your friends in G+ into groups who can share between themselves, any content posted in that group is only visible in that group (which is really handy if you don't want your work colleagues to see the hedonistic pictures of last weekend's party). Circles also provide Hangouts, a Hangout is a like a pub or a youth club where people can interact in a virtual room with other members of the Circle, you can use webcams in Hangouts too.  The photo uploading and sharing is pretty much as you would expect and follows the Facebook model with a few tweaks to suit. However you choose to use G+, it seems to have put right a few things in Facebook I didn't even know were wrong.
The beta version of G+ does not have any adverts embedded in it which is a good thing though I expect G+ will be plugged into Google's ad system pretty soon, as with Facebook I'm sure that all kinds of information will be harvested from the user and used to bombard us with adverts for stuff we didn't even knew that we wanted, but that is the price we have to pay to exist in their weird wonderful world. And as is standard these days an App is available for most mobile / tablet platforms.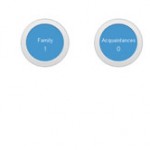 Time only will tell how Google will fare in its battle royal with Facebook, I don't for a moment think it will be the end for Zuckerberg et al and its a fair assumption that FB will have to have a few tricks up its sleeves to fight back, but like two heavy weight boxers this battle looks to be shaping up as a monster grudge match.