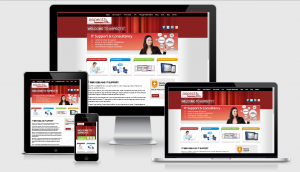 On April 21st 2015, Google made significant changes to the way in which it ranks websites on the search engine results pages. Moving forward,websites that aren't deemed "mobile-friendly" are likely to experience a drop in visibility for searches performed on mobile devices. This will affect searches across all languages and locations.
The growth of mobile traffic on the internet over the last few years has prompted Google to make these changes to their ranking signals and prioritise mobile friendly websites in order to enhance user experience. Google believes that when it comes to searching on the web, users should get the most relevant and timely results. According to 
research
, 73 per cent of web users prefer mobile-friendly websites and 61 per cent leave a site if it isn't mobile responsive.
So what exactly is mobile friendly?
Avoids uncommon mobile software such as Flash
Uses readable text without zooming
Uses appropriate content sizing so that users do not have to scroll horizontally
Places links far enough apart so that they can be easily accessed
Quick loading time
And what does this mean for you?
Firstly, you need to check whether or not your website is mobile friendly by taking a quick test.
If it's not, you need to make a few simple changes to your website. This will ensure your rankings are not affected and your customers receive an improved user experience when visiting your website via a mobile device.
To find out more details about the changes to Google, have a read of their blog page.
What can Aspect IT do for you?
If you need assistance with making the key changes to your website, Aspect have a solution and are ready to help. Our experienced team can easily modify your website in order to make it accessible via mobile devices and ensure you maintain your Google rankings. If you would like to learn more about how to make your website mobile friendly, then get in touch.
 01612 419050  
  updatemysite@aspectit.co.uk