As we are celebrating International Women's Day all week, it would only be right to introduce you to the newest member of our team, Hannah!
Hannah is our Marketing Executive and has been with us for just over three months. She graduated from Birmingham City University with a First Class Photography degree and began her Marketing journey a year ago.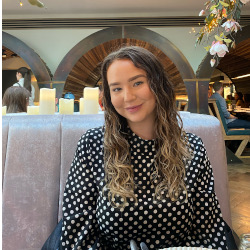 Although Hannah doesn't have a background in tech, she decided to apply to the company for a new challenge and has worked hard to get acquainted with the industry. She is excited to expand her knowledge and apply her Marketing skills to a new sector.
Her day to day responsibilities vary, but they include; managing all our social media accounts, overseeing and developing marketing campaigns, promotional press release activities, writing blog posts and more!
We interviewed Hannah so you can get to know her better:
How have you found working at Aspect IT so far?
It's been great! Although it was an adjustment for me at first, I've loved learning about the industry, and the team are great!
What's your favourite thing about your job?
I love content creation as I'm naturally very creative! I also love the feeling of pride I get when I start to see results from my campaigns.
If you could describe yourself in 3 words, what would they be?
Smiley, Enthusiastic and Creative
What do you enjoy doing outside of work?
Spending time with the people I love, photography, gaming and working on my personal development!
Where do you see yourself in 5 years?
Happy and still doing what I love! I definitely see myself in the marketing industry.
'May the flowers remind us why the rain was so necessary'