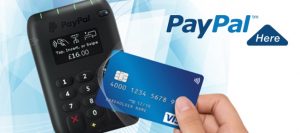 Are you a small business that needs a credit card machine? Well PayPal Here may be just for you!
Credit card machines are essential for retail companies and provide customers with a simple and efficient way of making payments.
As an IT support company that helps small businesses, we decided to upload this blog. We also recently sourced this device as a simple credit card machine for a small business, so wanted to share our thoughts.
So what is PayPal Here card reader?
This is a small device that is used to take credit and debit card payments. It is different to the ones you see in most retail shops as it connects to an app on your mobile phone via Bluetooth. The app then uses your internet connect on your mobile to send the payment to your PayPal account.
Is it easy to use?
The whole process is very easy to set up, simply follow these steps: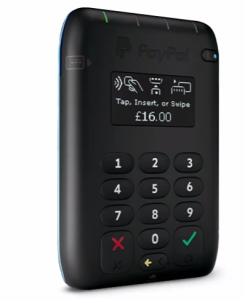 Create a PayPal account (unless you already have one).
Order the card reader, which is currently priced at £79.95 (one-off payment).
Download the PayPal here app to your mobile phone and log into your account.
Pair the card reader to your mobile phone via Bluetooth.
You're now ready to go!
The PayPal Here Instructions actually make the process sound difficult, but it really isn't!
What are the costs?
A PayPal account and the mobile app are both free.
The card reader costs £79.95 (one-off), but there are occasional deals or offers available.
Every transaction you make will cost 2.75% of the full amount.
This is deposited into your Paypal account and free to withdraw.
There are no rental or monthly fees.
What are the good points?
The device is very simple to use.
Contactless card payments are supported.
It can be used anyway as long as you have an internet connection.
The app has some great features, like a menu of products and tips.
You can SMS or email receipts.
What are the bad points?
The device feels a bit flimsy and the battery life isn't great.
There is no test mode, so to test it you have to make some real transactions.
If you don't have an internet connection then it won't work.
You need additional devices to print receipts.
The 2.75% transaction fee is high.
Conclusion
If you are looking for a simple method of taking payments for your small business, then Paypal Here is definitely worth a look. It is so simple to setup and you can start taking payments immediately. There are quite a few similar devices on the market, but if you're already using Paypal, then this is perfect.
The main drawback is the 2.75% fee. However, we have seen some small businesses add a small surcharge when customers pay by card, which can offset the cost.