Once you have all your social media set up, it's down to knowing what you want to post and what you think will attract people to follow and like your page. Depending on what your business does and what you sell or provide, this can help you establish what you need to publish. Our blog will help you get started on generating some great content!
What do you sell/provide?
As an IT Support company, we like to blog about the latest tech, trends, gadgets, how to guides etc. We want to keep you in the loop with what's going on in the tech industry and also to help you our with your IT.
Establishing what your business does can help you decide on topics. For example if your business was based on selling clothes, you could blog about the latest fashion trends, tips on styling yourself or your wardrobe etc. No matter what industry you're in there's so much blog content that you could create to attract attention. People love blogs so posting them on social media would be a great start especially Twitter.
News articles
Daily news is something that everyone will look at during the day, so why not post it for them? It shows that you're keeping up to latest with the latest industry news and you want to inform others which can come across as a positive thing for your business and it also indicates you're making people aware of your online presence. If you don't post how are people going to know about you anyway?
Competitions
Everyone loves a good incentive to helping you out. That's why competitions are fantastic to try and get yourself some more brand awareness. The typical thing would be to get people to like your page, follow your page and share with their friends. Once someone shares your content and your page then their friends will see it so you're bound to get a bigger following. The more people that share it the better!
What's going on in the office
You want your company to come across as fun and not full on boring and so serious, which is why its ok to be silly every once in a while! Posting what's going on in the office can show people what the atmosphere is like and how you come across as a business. Yes show that you're hard working but also show them how friendly you are.
These sort of posts also come across as inviting because you're not hiding behind a computer screen or telephone.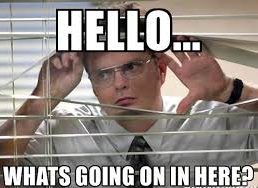 Show and tell what your business does
You need some space at least for saying what your business does. Whether you're offering discounts or promoting your products/services, you need to give people an indication are the type of things you sell.
Don't just put 'We sell this' make it more appealing. For example we post content to make people aware that Cyber Security is a high risk at the moment so we make people aware that they need their PC's to be protected fully or else they risk their data becoming exploited even more. You want your content to make people think 'I need that product' or 'I need that service' be as creative as you can!