The View, Edition 19
Welcome to the 19th edition of Aspect IT's newsletter, The View.
Well Done Jonathan!
Congratulations to our Services Manager, Jonathan Baird, who recently achieved his StorageCraft Certified Master Engineer credential!
This achievement demonstrates his exceptional ability to assist our customers with disaster recovery and data backup plans. Jonathan is now also well equipped to deal with the recovery  of complex servers using StorageCraft products and troubleshooting techniques.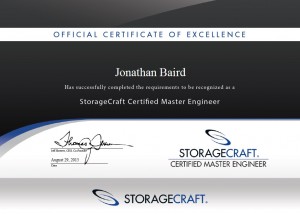 Facebook's New Business-Friendly Features
Facebook recently announced a number of new features that will help businesses improve their engagement with consumers.
The features are designed to aid customers searching for companies via their mobile phones.
The new look of the call-to-action button will be bigger, brighter and directly under the Page cover photo.
A new shop section enables retail businesses to bring their products to the forefront of their page and a services section helps companies to showcase their offerings.
Facebook is also testing a feature which highlights the most responsive businesses by awarding a green badge to those that respond to 90% of their messages within five minutes.
The number of companies with a Facebook page has risen to around 45 million and in the UK, 79% of people on Facebook are connected to a small business. So if you're not on Facebook… right there is your excuse to get cracking!