Connecting to the cloud is now part of everyday life for a lot of us. There are a whole load of online storage services available, with many offering a few GB of free space; Google Drive, Dropbox, One Drive, the list goes on.
The ability to backup files, store them in the cloud and automatically sync data across all devices has given users a wealth of freedom that they had only ever dreamed of. It's not so easy to lose those holiday snaps anymore! And we are now able to access our files anywhere and everywhere (providing there's an internet connection).
But which is the best cloud storage service for you?  Are there other options out there that could suit your company needs better?
We've review the best ones available and let you know what they have to offer.
Google Drive: 
Price: 15GB free, £15 per year 100GB
If you're a Gmail user, you can sync Google Drive with your Google account to store and access files wherever you are. It's simple to use and Google also offers a version of Drive for business users, Google Apps for Work, which starts at £3.30 per month.
OneDrive
Price: 15GB for free, 100GB approx. £1.30 per month, 1TB approx. £4.50 per month
Formerly known as SkyDrive, this cloud storage service got off to a wobbly start but with Windows 8 and 10 integration, it's now finding its feet. There is perhaps not enough going on to make you switch from a current cloud provider, but it still works well in Office and Windows.
Microsoft has also introduced a referral scheme whereby users can obtain an extra 500MB of storage for every friend that signs up to an account through them.
There's also an additional 3GB if you link OneDrive to your mobile phone camera roll, which enables you to automatically back up your photos.
iCloud
Price: 5GB for free, 20GB 79p per month, 1TB £14.99 per month
If you're a big Apple fan this is the only option for you. If you use iphones, ipads regularly, then iCloud works seamlessly. As usual though with Apple, support for devices not made by the company is limited.
It can't be used for syncing emails and backing up your files, but it is the easiest place to store all your music, videos, books and photos.
Apple iCloud's latest feature allows up to six members of the family to share their digital goings-on – from photos to their iTunes library, so you can all sync in perfect harmony.
Dropbox
Price: 2GB free, 1TB £79 per annum
Launched all the way back in 2008, Dropbox is possibly one of the biggest names in online storage, and it's available to anyone with any kind of email address! The service can be installed onto your PC but there is also an online version which just requires a log in.
By introducing friends to Dropbox you can gain 500MB per refferal, up to a max of 16GB.
One more thing, other users cannot see you files unless you put them in the 'public' folder or invite them to view files. Be aware though, everything in the 'public' folder is accessible to anyone.
Flickr
Price: 1TB free
Owned by Yahoo, Flickr is probably the most well known photo-sharing site. It also allows storage of videos but unfortunately you cannot save any other files such as word documents etc.
It's free to signup and there are privacy settings to restrict who can view your images. Not really useful for a full online storage facility, but helpful if you only want to save a few pics!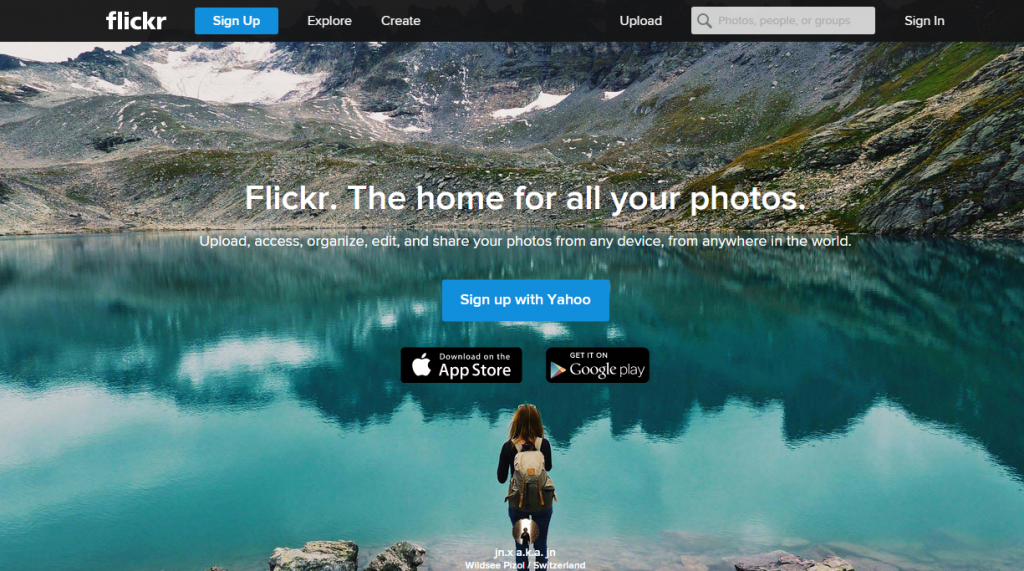 Amazon Cloud Drive
Price: 5GB free, 1TB £320 per annum
Following in the footsteps of Google and Microsoft, shopping giant Amazon, runs a cloud based storage service for all your files. It also lets members keep a personal music library for their music so you can listen to music wherever you are, on your phone or tablet.
Amazon Prime members get free unlimited storage for their photos. If you're already a member there's no harm in trying it! 
Psssst! Just to let you know the cloud isn't available without an internet connection, although some services do allow you to download files for times when you will be unable to get online. Also, some cloud storage services are limited to specific hardware, it's best to double check first, if they are compatible with your device, before paying for a subscription.